PRACTICAL STUDY ABROAD : THE OSAKA UNIVERSITY INTERNATIONAL CERTIFICATE PROGRAMME ( HALAL SCIENCE, TECHNOLOGY AND INNOVATION) (OUICP-HaSTI)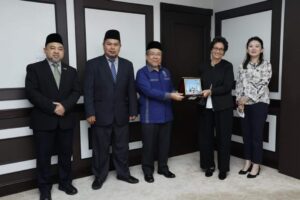 News
22 Jun 2022, UNISSA menerima kunjungan daripada Puan Yang Terutama Duta Besar Jerman ke Negara
Read More »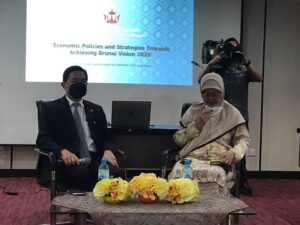 News
20 Jun 2022 – Universiti Islam Sultan Sharif Ali (UNISSA) telah mengadakan Ministrial Talk bagi
Read More »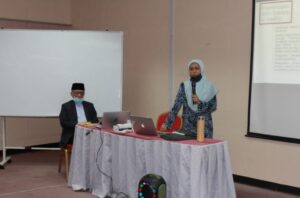 News
20 Jun 2022 – Universiti Islam Sultan Sharif Ali (UNISSA) telah mengadakan Bengkel "Pengkajian Takhrij
Read More »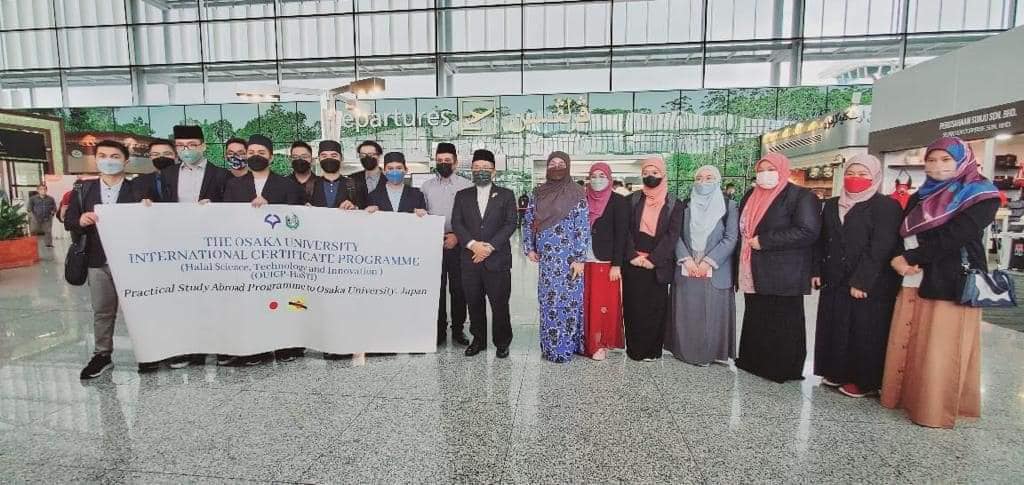 6 June 2022, Seramai lima belas pelajar siswazah dari Universiti Islam Sultan Sharif Ali telah berlepas ke Osaka Jepun bagi mengikuti Practical Study Abroad dibawah program The Osaka University International Certificate Programme (Halal Science, Technology and Innovation) (OUICP-HaSTI).
Program ini merupakan kerjasama diantara Osaka University, Jepun dan tiga Institusi Pengajian Tinggi di Negara Brunei Darussalam termasuk Universiti Islam Sultan Sharif Ali. Melalui program ini, pelajar siswazah akan mengikuti OUICP-HaSTI selama 10 bulan yang telah bermula pada November 2021 dan akan berakhir pada September 2022. Diantara objektif program ini adalah bagi memberi ilmu pengetahuan yang luas mengenai sains dan teknologi untuk inovasi produk dan perkhidmatan halal, disamping dapat memperoleh pengetahuan dan pengalaman praktikal dengan lebih lanjut dalam bidang yang diminati dengan cara berinteraksi dengan para profesional industri di Jepun (terutama daerah majoriti Muslim) dan program ini juga membolehkan pelajar memanfaatkan pembelajaran baru dan praktikal serta menghubungkan mereka dengan kerjaya atau profesional masa depan; dan meningkatkan keyakinan untuk bersaing di pasaran pekerjaan antarabangsa dengan peluang kejayaan yang lebih tinggi.
Lima belas pelajar tersebut terdiri daripada sembilan orang pelajar Master of Halal Science di Pusat Penyelidikan Halalan Thayyiban, lima pelajar Master of Islamic Media and Communication Technology dari Fakulti Teknologi Islam dan seorang pelajar Master of Laws (International Law) dari Fakulti Syariah dan Undang-Undang. Program ini juga merupakan salah satu usaha UNISSA bagi meningkatkan kecemerlangan akademik dan menyokong pelajar yang berpotensi untuk membuat kajian mengenai ilmu islam dan sains, maka adalah wajar sekiranya pelajar-pelajar ini ditawarkan
kepada mana-mana program yang dapat meningkatkan tahap kecemerlangan akademik. Ini juga merupakan satu penghormatan yang tinggi nilainya kepada pelajar siswazah di UNISSA jika diberi peluang untuk menyertai program ini.
Turut hadir ke Lapangan Terbang Antarabangsa Brunei Darussalam ialah Rektor UNISSA, Dr Haji Norarfan bin Haji Zainal, Pemangku Penolong Rektor (Hal Ehwal Pelajar & Alumni), Pengiran Dr Hajah Norkhairiah Pengiran Haji Hashim dan wakil-wakil Fakulti lain.