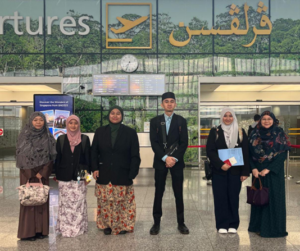 News
Bandar Seri Begawan, Jumaat, 08 Disember 2023, Universiti Islam Sultan Sharif Ali telah menghantar 4
Read More »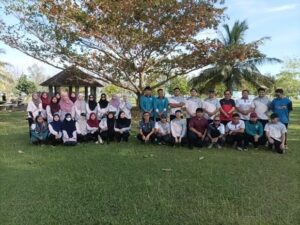 News
MUARA, Ahad, 29 Oktober – Seramai 41 orang peserta yang terdiri daripada pelajar, tenaga akademik
Read More »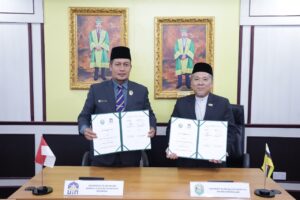 News
Rabu, 15 November 2023 – Menerima lawatan dan seterusnya Majlis Penandatanganan Memorandum Persefahaman (MoU) bersama
Read More »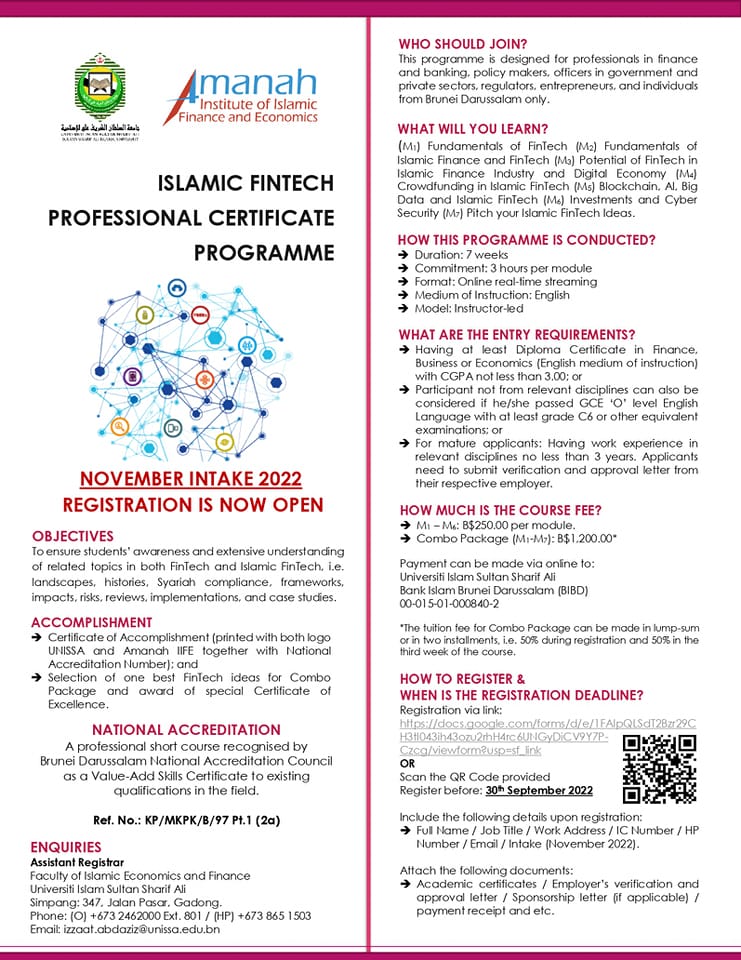 The "Islamic Fintech Professional Certificate Programme" for November intake 2022 is NOW OPEN FOR REGISTRATION.
This short course programme is specially designed by the Faculty of Islamic Economics and Finance (FIEF), Universiti Islam Sultan Sharif Ali (UNISSA) in collaboration with the Amanah Institute of Islamic Finance and Economics (Amanah IIFE) for professionals, policy makers, officers in government and private sectors, regulators, entrepreneurs and individuals from Brunei Darussalam.
Objectives:
To ensure student's awareness and extensive understanding of related topics in both FinTech and Islamic FinTech i.e. landscapes, histories, Syariah compliance, frameworks, impacts, risks, reviews, implementations and case studies.
Programme Details
Duration: 7 weeks (3 hours per module)
Format: Online Streaming (Instructor-led)
Course Fee: B$250.00 per module.
Combo Package: B$1,200.00 (Complete 7 modules)
For registration and more details on this programme, please click the link below :
https://docs.google.com/…/1FAIpQLSdT2Bzr29C…/viewform… or scan the QR Code provided.
The deadline to register is before Friday, 30th September 2022.
Any enquires please contact:
Asistant Registrar
Faculty of Islamic Economics and Finance
Universiti Islam Sultan Sharif Ali
+673 246 2000 ext 801
+673 865 1503
izzaat.abdaziz@unissa.edu.bn