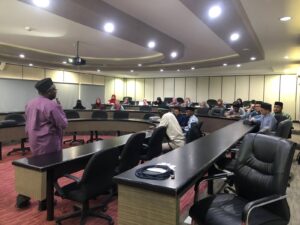 Academic
Universiti Islam Sultan Sharif Ali (UNISSA) melalui Pusat Pengajian Siswazah menawarkan Bengkel Pengembangan Kemahiran Penulisan
Read More »
(Late Post) 13 Zulhijjah 1444H bersamaan dengan 2 Julai 2023M- Universiti Islam Sultan Sharif Ali,
Read More »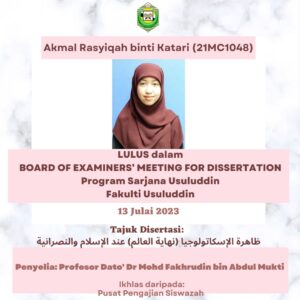 Academic
BOE yang kedua diadakan pada 13 Julai 2023 sepertimana poster diatas ini. Akmal Rasyiqah binti
Read More »
Event Date: August 4, 2022
Viva-Voce sepertimana gambar dibawah ini diadakan pada 04 Ogos 2022. Pembentangan yang membawa tema "Hak Kanak-Kanak Di Bawah Undang-Undang Negara Brunei Darussalam Dan Perbandingannya Dengan United Nations Convention On the Rights of The Child (UNCRC) Artikel 14, 20 Dan 21" yang dibentang oleh Hajah Norhartijah binti Haji Puteh(20MR1003), Program Sarjana Undang-Undang, Fakulti Syariah dan Undang-Undang. Siswazah tersebut dibawah penyeliaan Dr Hajah Hanan Binti Pehin Datu Seri Maharaja Dato Paduka Seri Setia (DR) Ustaz Haji Awang Abdul Aziz.