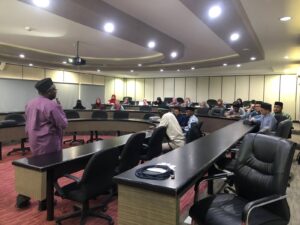 Academic
Universiti Islam Sultan Sharif Ali (UNISSA) melalui Pusat Pengajian Siswazah menawarkan Bengkel Pengembangan Kemahiran Penulisan
Read More »
(Late Post) 13 Zulhijjah 1444H bersamaan dengan 2 Julai 2023M- Universiti Islam Sultan Sharif Ali,
Read More »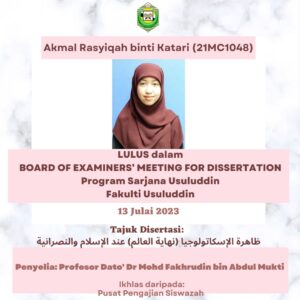 Academic
BOE yang kedua diadakan pada 13 Julai 2023 sepertimana poster diatas ini. Akmal Rasyiqah binti
Read More »
Event Date: June 13, 2023
Poster dibawah ini (Imej 6.0) merupakan Viva-Voce yang telah diadakan pada 13 Jun 2023. Pembentangan yang membawa tema "The Use of Mobile and Virtual Reality Technology in Online Shopping As Business Marketing Tool in Brunei Darussalam" Tema ini dibentang oleh Ma'sum bin Isa (21MR1024), Program Sarjana Media dan Komunikasi Teknologi Islam (secara penyelidikan) Fakulti Teknologi Islam. Siswazah tersebut dibawah penyeliaan Dr Dayang Hajah Tiawa @ Noriah binti Awang Haji Hamid.