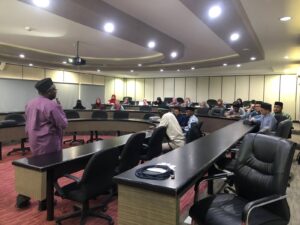 Academic
Universiti Islam Sultan Sharif Ali (UNISSA) melalui Pusat Pengajian Siswazah menawarkan Bengkel Pengembangan Kemahiran Penulisan
Read More »
(Late Post) 13 Zulhijjah 1444H bersamaan dengan 2 Julai 2023M- Universiti Islam Sultan Sharif Ali,
Read More »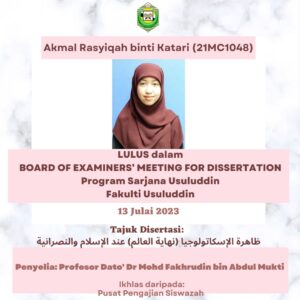 Academic
BOE yang kedua diadakan pada 13 Julai 2023 sepertimana poster diatas ini. Akmal Rasyiqah binti
Read More »
Viva-Voce sepertimana poster diatas ini telah diadakan pada hari Rabu, 5 Julai 2023. Pembentangan yang membawa tema "Conflicts Between Syariah and Civil Criminal Justice Systems: A Critical Analysis of Homicide Offences in Brunei Darussalam" yang dibentang oleh Haji Hardifadilah bin Haji Mohd Salleh (17P601), Doktor Falsafah Undang-Undang (secara Penyelidikan), Fakulti Syariah dan Undang-Undang. Siswazah tersebut dibawah penyeliaan Profesor Dr Nehaluddin Ahmed.