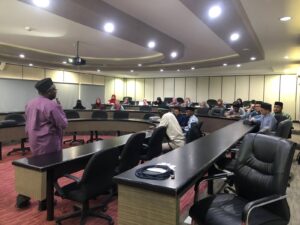 Academic
Universiti Islam Sultan Sharif Ali (UNISSA) melalui Pusat Pengajian Siswazah menawarkan Bengkel Pengembangan Kemahiran Penulisan
Read More »
(Late Post) 13 Zulhijjah 1444H bersamaan dengan 2 Julai 2023M- Universiti Islam Sultan Sharif Ali,
Read More »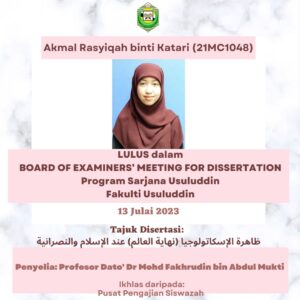 Academic
BOE yang kedua diadakan pada 13 Julai 2023 sepertimana poster diatas ini. Akmal Rasyiqah binti
Read More »
Event Date: October 12, 2022
Univeristi Islam Sultan Sharif Ali melalui Pusat Pengajian Siswazah telah menawarkan Bengkel Pengembangan Kemahiran Penulisan Tesis 2022 secara percuma kepada Pelajar Siswazah khususnya.
Bengkel yang bertajuk Developing the Conceptual and Theoretical Framework of Your Research ini disampaikan oleh Prof. Dr Haji Abdul Hafidz bin Haji Omar, Ketua Program Siswazah, Fakulti Teknologi Islam. Bengkel ini akan diadakan pada hari Rabu, 12 Oktober 2022M bersamaan 16 Rabiulawal 1444H bermula jam 2.00 hingga 4:30 petang dan akan dijalankan di bilik training L 1.3 (UNISSA).