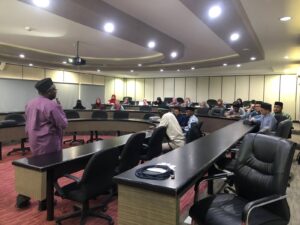 Academic
Universiti Islam Sultan Sharif Ali (UNISSA) melalui Pusat Pengajian Siswazah menawarkan Bengkel Pengembangan Kemahiran Penulisan
Read More »
(Late Post) 13 Zulhijjah 1444H bersamaan dengan 2 Julai 2023M- Universiti Islam Sultan Sharif Ali,
Read More »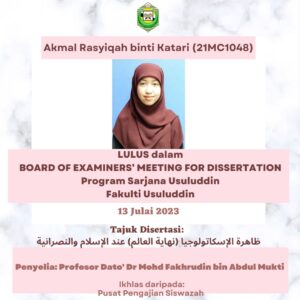 Academic
BOE yang kedua diadakan pada 13 Julai 2023 sepertimana poster diatas ini. Akmal Rasyiqah binti
Read More »
Board of Examiner's Meeting sepertimana poster diatas ini diadakan pada 15 Mei 2023. Siti Normaidah binti Haji Abdullah (21MC1079), Program Sarjana Syariah, Fakulti Syariah dan Undang-Undang telah lulus dalam Board of Examiner's Meeting for Dissertation dengan tajuk disertasi
حكم العدول عن الخطبة في الفقه الإسلا مي وتطبيقاته في بروناي دارالسلام
Siswazah tersebut dibawah penyeliaan Dr Zurairatul Zakiah binti Dato Seri Setia Haji Rajid.