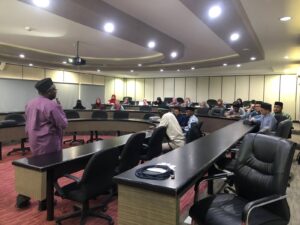 Academic
Universiti Islam Sultan Sharif Ali (UNISSA) melalui Pusat Pengajian Siswazah menawarkan Bengkel Pengembangan Kemahiran Penulisan
Read More »
(Late Post) 13 Zulhijjah 1444H bersamaan dengan 2 Julai 2023M- Universiti Islam Sultan Sharif Ali,
Read More »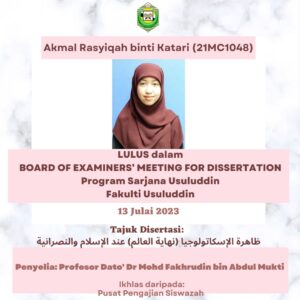 Academic
BOE yang kedua diadakan pada 13 Julai 2023 sepertimana poster diatas ini. Akmal Rasyiqah binti
Read More »
Pada 25 Mei 2023, PPS telah berjaya mengendalikan 3 Board of Examiner's Meeting,
BOE pertama sepertimana poster diatas ini diadakan pada 25 Mei 2023. Rabiatul Adwiah binti Abdullah (20MC1095) menduduki pembelajaran dalam Program Sarjana Sains Halal (Pengurusan Halal), Pusat Penyelidikan Halaln Tayyiban telah lulus dalam Board of Examiner's Meeting dengan tajuk disertasi "Determinants of Halal Food Purchaisng Behaviour in Brunei Darussalam". Siswazah ini dibawah penyeliaan Dr Nur Thaqifah Salihah binti Haji Mohd Salleh.