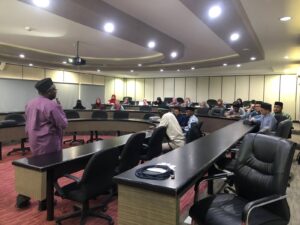 Academic
Universiti Islam Sultan Sharif Ali (UNISSA) melalui Pusat Pengajian Siswazah menawarkan Bengkel Pengembangan Kemahiran Penulisan
Read More »
(Late Post) 13 Zulhijjah 1444H bersamaan dengan 2 Julai 2023M- Universiti Islam Sultan Sharif Ali,
Read More »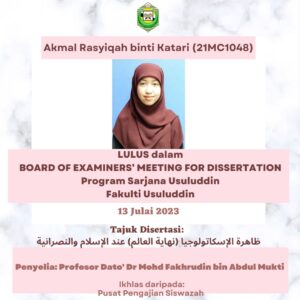 Academic
BOE yang kedua diadakan pada 13 Julai 2023 sepertimana poster diatas ini. Akmal Rasyiqah binti
Read More »
BOE yang kedua pada 25 Mei 2023 ini sepertimana poster diatas ini dengan tajuk disertasi "A Critical Analysis on The Regulations of The Imported Halal Food Products in Brunei Darussalam" yang dibuat oleh Nur Hanasuhha binti Haji Sulaiman. Siswazah tersebut lulus dalam BOE dan dibawah penyeliaan Pengiran Dr Hajah Norkhairiah binti Pengiran Haji Hashim.