Bengkel "Academic Writing Workshop: Understanding the Nuts and Bolts of Academic Writing" anjuran Majlis Perwakilan Siswazah (MPS)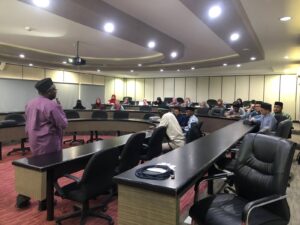 Academic
Universiti Islam Sultan Sharif Ali (UNISSA) melalui Pusat Pengajian Siswazah menawarkan Bengkel Pengembangan Kemahiran Penulisan
Read More »
(Late Post) 13 Zulhijjah 1444H bersamaan dengan 2 Julai 2023M- Universiti Islam Sultan Sharif Ali,
Read More »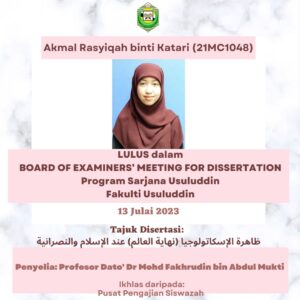 Academic
BOE yang kedua diadakan pada 13 Julai 2023 sepertimana poster diatas ini. Akmal Rasyiqah binti
Read More »
Event Date: March 27, 2023
Pada hari Isnin, 27 Mac 2023, Majlis Perwakilan Siswazah (MPS) telah melaksanakan Bengkel "Academic Writing Workshop: Understanding the Nuts and Bolts of Academic Writing"  yang berlangsung di bilik latihan 1.3 di UNISSA.
Objektif bagi program ini adalah untuk memberikan pendedahan dan kepentingan penulisan dan penerbitan artikel dalam jurnal kepada siswazah, memberikan pemahaman mengenai penulisan akademik ciri-ciri dan objektifnya, cara membuat kertas akademik mengikut komponen asas dan struktur, penggunaan 'citation' dalam penulisan akademik dan memantapkan penulisan akademik melalui 'editing' dan 'proofread'. Fasilitator bagi bengkel ini adalah Dr Abdul Azeem Khan, Assistant Professor daripada Fakulti Teknologi Islam, UNISSA. Turut hadir iaitu seramai 13 orang terdiri dari siswazah lepasan ijazah.
Hasil dari bengkel ini diharap akan dapat memberi pendedahan kepada para siswazah mengenai cara menulis dan menyediakan manuskrip artikel jurnal yang berkualiti dan diterima oleh penerbit jurnal antarabangsa yang diindeks sekurang-kurangnya Journal Scopus.