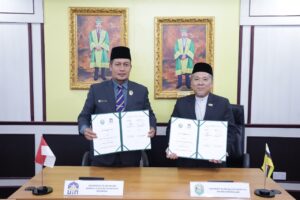 News
Rabu, 15 November 2023 – Menerima lawatan dan seterusnya Majlis Penandatanganan Memorandum Persefahaman (MoU) bersama
Read More »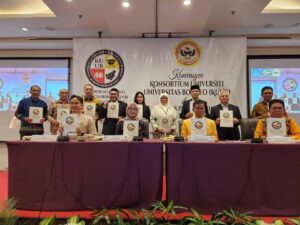 News
Rabu, 8 November 2023 – Universiti Islam Sultan Sharif Ali (UNISSA) telah menghadiri Konvensyen Universiti
Read More »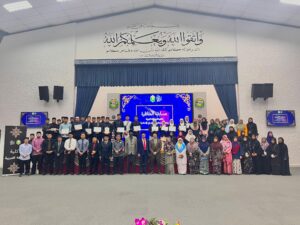 News
Bandar Seri Begawan- 27 Rabiulakhir 1445H bersamaan dengan 11 November 2023M, hari Sabtu, Fakulti Bahasa
Read More »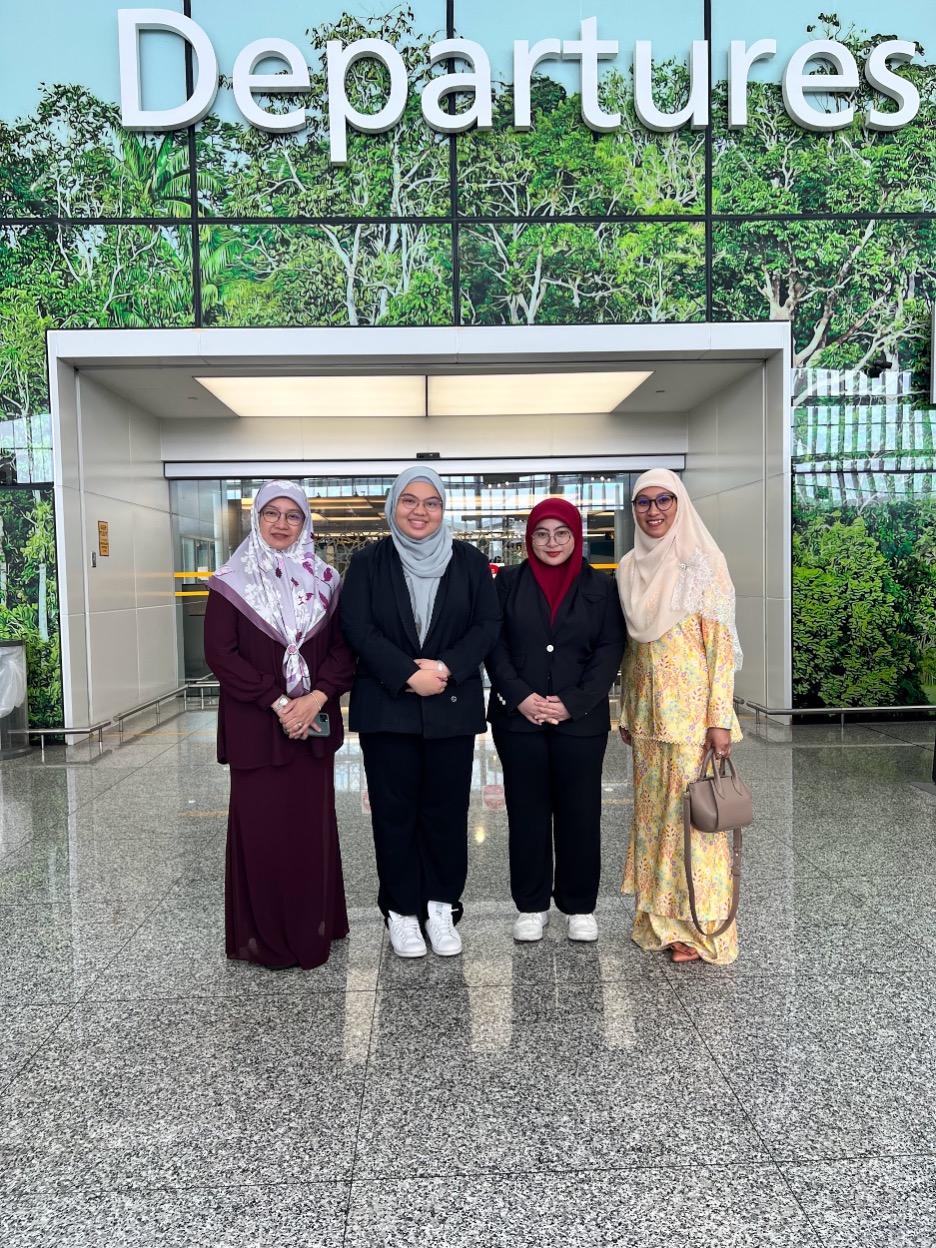 Dua pelajar Tahun 3 dari program pra siswazah Bachelor of Halal Science di Pusat Penyelidikan Halalan Thayyiban, Universiti Islam Sultan Sharif Ali (UNISSA) telah berlepas ke Osaka, Jepan. Mereka akan menjalan latihan industri selama 75 hari. Pelajar akan ditempatkan di Kampus Suita, Osaka University, Jepun dan akan menjalani latihan industri selama 75 hari. Kedua-dua pelajar menerima biasiswa melalui Skim At Tamayyuz UNISSA bagi pelajar yang cemerlang dalam akademik.
Turut hadir ke Lapangan Terbang Antarabangsa Brunei bagi mengucapkan selamat tinggal ialah Pengiran Dr Hjh Norkhairiah Pengiran Haji Hashim, Pengarah di Pusat Penyelidikan Halalan Thayyiban, UNISSA. Tujuan sebenar latihan industri ialah untuk mendedahkan para pelajar kepada situasi dan alam pekerjaan yang sebenar kerana semasa menjalani latihan ini, para pelajar dapat berinteraksi dengan pekerja lain dan secara tidak langsung dapat meningkatkan keyakinan dan kemahiran berkomunikasi apabila berhadapan dengan masyarakat sekeliling.
Pelajar juga akan berpeluang untuk menjalankan penyelidikan secara praktikal berkenaan dengan aspek halal semasa berada disana. Keperluan dan permintaan dalam penyelidikan halal semakin meningkat memandangkan lebih ramai pengguna dari kalangan orang Islam dan bukan Islam mulai peka mengenai kepentingan dan kelebihan aspek halal dan thayyiban dalam makanan.
Osaka University dan juga UNISSA sangat aktif dalam jaringan kerjasama dari segi program pengantarabangsaan pelajar, mobiliti dan juga penyelidikan dalam bidang sains, teknologi dan sains sosial. Ini merupakan kekuatan Pusat Penyelidikan Halalan Thayyiban sebagai pusat kecemerlangan dalam penyelidikan dalam disiplin sains halal.
Two Year 3 students from the Bachelor of Halal Science pre-graduate program at the Halalan Thayyiban Research Center, Universiti Islam Sultan Sharif Ali (UNISSA) have left for Osaka, Japan. Students will be placed at Suita Campus, Osaka University, Japan, and will undergo industrial training for 75 days. Both students received a scholarship based on At Tamayyuz UNISSA scheme for high-performing students.
The Director of Halalan Thayyiban Research Center, UNISSA Pengiran Dr Hjh Norkhairiah Pengiran Haji Hashim was at Brunei International Airport for the students farewell The main purpose of industrial training is to expose the students to the  practical environment  as they can interact with other workers and can indirectly improve their theoretical and practical backgrounds, confidence, and communication skills when dealing with the surrounding community.
Students will also be able to conduct practical research regarding halal aspects while there. The need for halal research increasing as more consumers from among Muslims and non-Muslims become more aware of the importance and advantages of halalan and thayyiban aspects in food.
Osaka University and UNISSA are very active in the collaboration network regarding student internationalization programs, mobility, and research in the fields of science, technology, and social sciences. This is the strength of the Halalan Thayyiban Research Centre as a Centre of excellence in research in the discipline of halal science.