PROGRAM TADABBUR AL-QUR'AN SESI MAC 2023M
Name:
PROGRAM TADABBUR AL-QUR'AN SESI MAC 2023M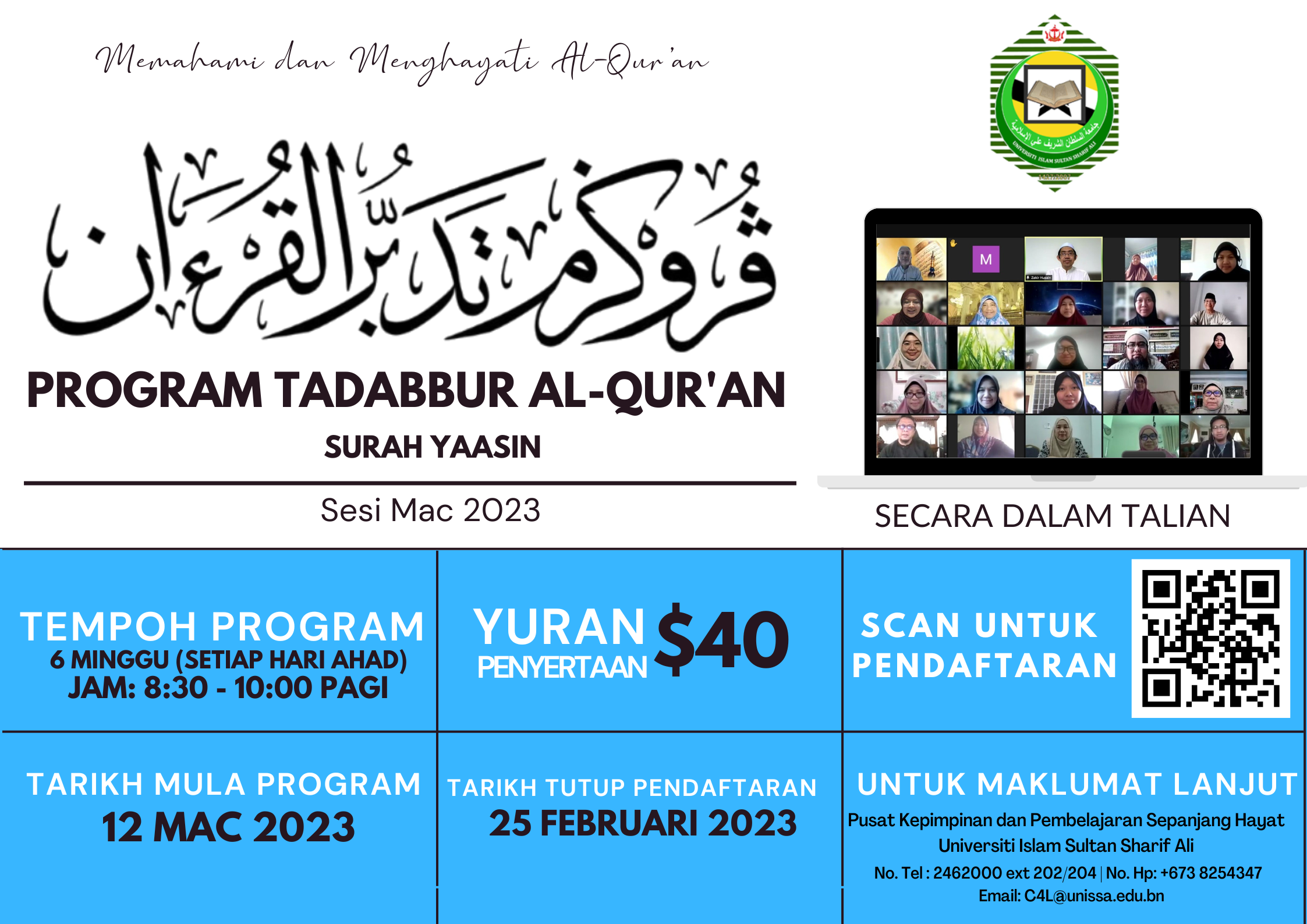 Universiti Islam Sultan Sharif Ali (UNISSA) melalui Pusat Kepimpinan dan Pembelajaran Sepanjang Hayat (PKPSH) dengan kerjasama Fakulti Usuluddin menawarkan Program Tadabbur Al-Quran kepada orang ramai.
Adapun tujuan Program Tadabbur Al-Qu'ran ini diadakan adalah untuk membimbing masyarakat awam dalam memberikan kefahaman dan penghayatan kepada al-Qur'an melalui rujukan dan kitab-kitab tafsir yang muktabar. Ini selaras dengan konsep Negara Zikir dan rakyat celik Al-Qur'an sepertimana yang dihasratkan oleh Kebawah Duli Yang Maha Mulia Paduka Seri Baginda Sultan dan Yang Di-Pertuan Negara Brunei Darussalam.
Maklumat kursus adalah sepertimana berikut:
Tenaga Pengajar

Modul

Tarikh

Jam

Tempoh

Platform

Yuran Pendaftaran

: Dr Muhammad Zakir bin Hussein

: Surah Yaasin

: Bermula 12 Mac 2023M

: 8.30 pagi hingga 10.00 pagi (1 jam 30 min)

: 6 minggu

: Secara dalam talian (Zoom)

: $40.00 bagi setiap seorang peserta
Para peserta yang ingin mendaftar bagi program ini bolehlah melayari pautan berikut: https://bit.ly/PTQC4L atau dengan mengimbas kod QR di bawah:
Tarikh akhir pendaftaran adalah pada hari Sabtu 25 Februari 2023M, jam 4.30 petang.
Sebarang pertanyaan atau keterangan lanjut mengenai program ini, para peserta bolehlah menghubungi Pusat Kepimpinan dan Pembelajaran Sepanjang Hayat, UNISSA di talian 2462000 sambungan 204/202 ataupun melayari laman sesawang www.unissa.edu.bn atau menghantar e-mel ke C4L@unissa.edu.bn.
BACHELOR DEGREE AND HIGHER NATIONAL DIPLOMA PROGRAMMES
GENERAL NOTES
Universiti Islam Sultan Sharif Ali reserves the right to reject applications which are incomplete, received after the closing date or containing false information.
Only shortlisted / successful candidates will be
Only qualifications from a University / Institution / Examination Board recognised by the University Senate will be
For entry to first degree programmes only Sijil Tinggi Pelajaran Ugama Brunei (STPUB) and Brunei-Cambridge GCE 'A' Level qualifications or equivalent qualifications obtained in not more than 3 sittings and not exceeding three (3) years of last examination will be
Applicants with other equivalent qualification such as Higher National Diploma (HND) may be considered subject to fulfilling the entry requirement set by the programme they have applied
General Paper and English as a Second Language will not be considered as Advanced Level
The London GCE 'O' Level Malay will not be considered.
Applicants who do not meet the normal entry requirements may be considered for admission to first degree programmes as mature applicants subject to the requirements set by the University as set out
Applicants must satisfy other requirements as set by faculties in Universiti Islam Sultan Sharif Ali from time to
Required to go through prescribed medical fitness examination and must be certified as fit to join the
If deemed necessary, applicants may also be required to attend an interview conducted by the relevant
Points will be allocated to 'A' Level grades according to the following scheme, which is based on that used by the University Colleges Admission Services (UCAS), United Kingdom. Advanced Subsidiary (AS) Level qualifications are not awarded points in the UNISSA scheme and are not taken into account when determining acceptable qualifications for entry to
For English Medium programmes, applicants must have at least a credit 6 in English Language at GCE 'O' Level Examination or a grade 'C' in IGCSE English (as a Second Language) or an IELTS score of 0 or a TOEFL minimum overall score of 550.
Passed Primary School Religious Certificate (Sijil Sekolah-Sekolah Rendah Ugama Brunei) examination or its equivalent including Penilaian Sekolah Rendah Certificate examination for applicants from Institut Tahfiz al-Qur'an Sultan Haji Hassanal Bolkiah (ITQSHHB) and Arabic Schools, or equivalent qualifications recognised by University
Pass al-Qur'an al-Karim recitation test conducted by the
Four (4) years
[Full Time]

Bachelor of Shariah (Fiqh & Judiciary)

Bachelor of Shariah (Fiqh & Usul)

Bachelor of Arabic Language & Translation

Bachelor of Islamic History & Civilisation

Bachelor of Tahfiz & Qira'at

Bachelor of Science in Islamic Finance

Bachelor of Business Management

Bachelor of Laws & Bachelor of Shariah Law

Five (5) years [Full Time]

Bachelor of Halal Science

Five (4) years [Full Time]

Higher National Diploma in Shariah Criminal Justice System

Five (2) years [Full Time]
Tempoh Pengajian
Duration of Study

Yuran Pengajian setiap Program
Tuition Fees per programme

Program Peningkatan
Barnamij al- Tarqiyah / Upgrading Programme

Sijil Sistem Keadilan Jenayah Syaria
Certificate of Shariah Criminal Justice System

Diploma Tertinggi Kebangsaan
Higher National Diploma

Sarjana Muda
Bachelor's Degree

Sarjana Muda Undang-Undang dan Perundangan Syariah
Bachelor of Laws and Bachelor of Shariah Law