ISLAMIC FINTECH PROFESSIONAL CERTIFICATE PROGRAMME
Name:
ISLAMIC FINTECH PROFESSIONAL CERTIFICATE PROGRAMME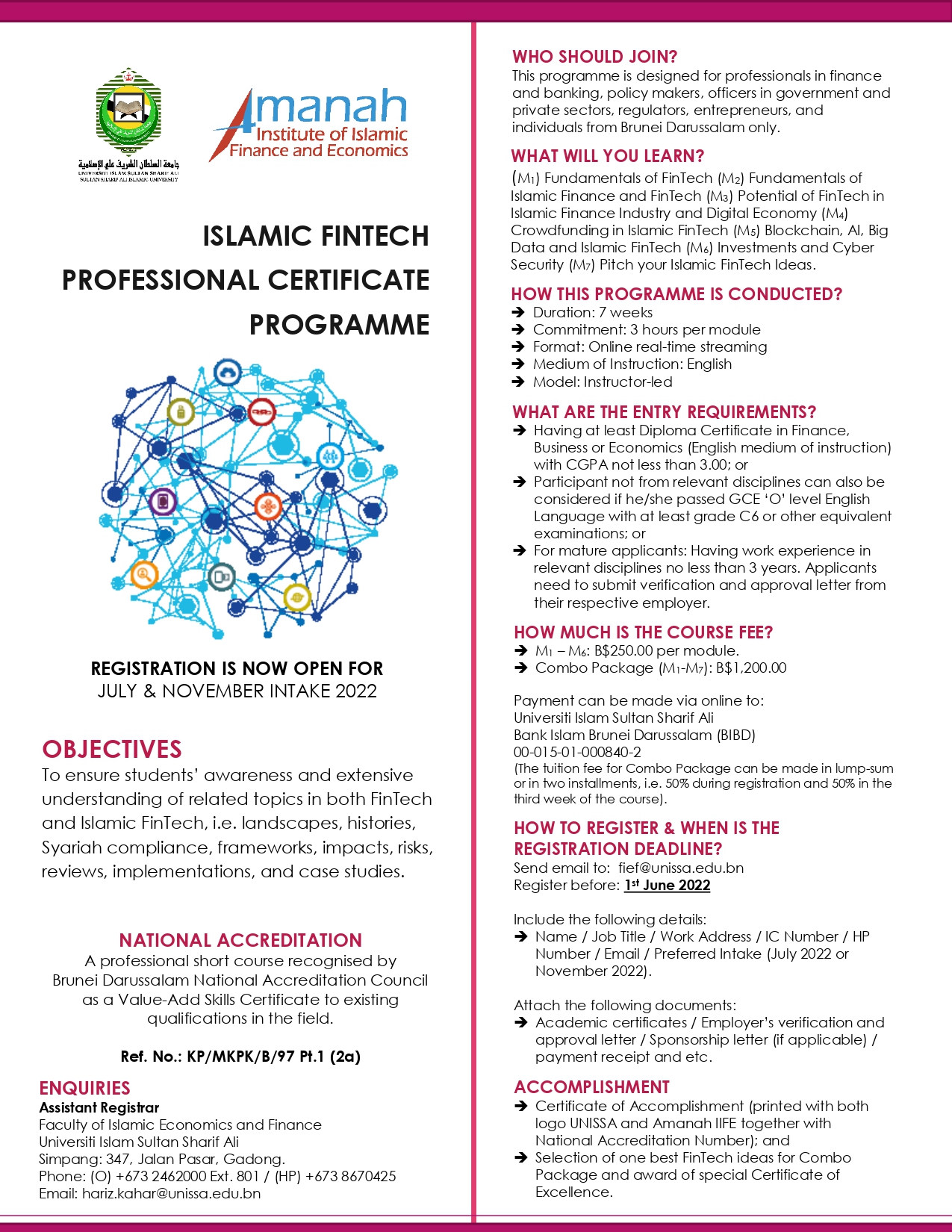 WHO SHOULD JOIN?
This programme is designed for professionals in finance
and banking, policy makers, officers in government and
private sectors, regulators, entrepreneurs, and
individuals from Brunei Darussalam only.
WHAT WILL YOU LEARN?
(M1) Fundamentals of FinTech (M2) Fundamentals of
Islamic Finance and FinTech (M3) Potential of FinTech in
Islamic Finance Industry and Digital Economy (M4)
Crowdfunding in Islamic FinTech (M5) Blockchain, AI, Big
Data and Islamic FinTech (M6) Investments and Cyber
Security (M7) Pitch your Islamic FinTech Ideas.
HOW THIS PROGRAMME IS CONDUCTED?
 Duration: 7 weeks
 Commitment: 3 hours per module
 Format: Online real-time streaming
 Medium of Instruction: English
 Model: Instructor-led
WHAT ARE THE ENTRY REQUIREMENTS?
 Having at least Diploma Certificate in Finance,
Business or Economics (English medium of instruction)
with CGPA not less than 3.00; or
 Participant not from relevant disciplines can also be
considered if he/she passed GCE 'O' level English
Language with at least grade C6 or other equivalent
examinations; or
 For mature applicants: Having work experience in
relevant disciplines no less than 3 years. Applicants
need to submit verification and approval letter from
their respective employer.