ISLAMIC FINTECH PROFESSIONAL CERTIFICATE PROGRAMME
Name:
ISLAMIC FINTECH PROFESSIONAL CERTIFICATE PROGRAMME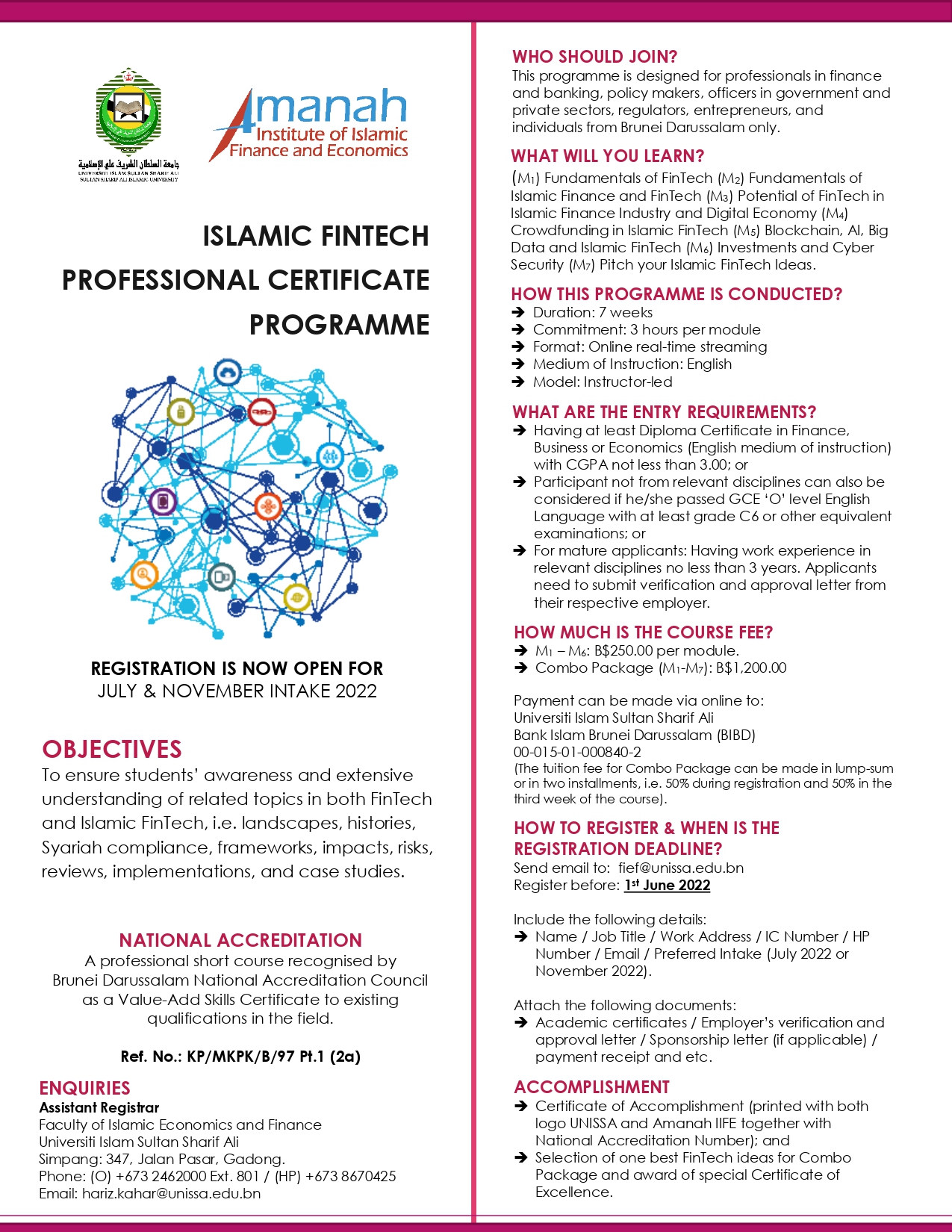 WHO SHOULD JOIN?
This programme is designed for professionals in finance
and banking, policy makers, officers in government and
private sectors, regulators, entrepreneurs, and
individuals from Brunei Darussalam only.
WHAT WILL YOU LEARN?
(M1) Fundamentals of FinTech (M2) Fundamentals of
Islamic Finance and FinTech (M3) Potential of FinTech in
Islamic Finance Industry and Digital Economy (M4)
Crowdfunding in Islamic FinTech (M5) Blockchain, AI, Big
Data and Islamic FinTech (M6) Investments and Cyber
Security (M7) Pitch your Islamic FinTech Ideas.
HOW THIS PROGRAMME IS CONDUCTED?
 Duration: 7 weeks
 Commitment: 3 hours per module
 Format: Online real-time streaming
 Medium of Instruction: English
 Model: Instructor-led
WHAT ARE THE ENTRY REQUIREMENTS?
 Having at least Diploma Certificate in Finance,
Business or Economics (English medium of instruction)
with CGPA not less than 3.00; or
 Participant not from relevant disciplines can also be
considered if he/she passed GCE 'O' level English
Language with at least grade C6 or other equivalent
examinations; or
 For mature applicants: Having work experience in
relevant disciplines no less than 3 years. Applicants
need to submit verification and approval letter from
their respective employer.
BACHELOR DEGREE AND HIGHER NATIONAL DIPLOMA PROGRAMMES
Applications are invited from qualified candidates for admission to the programmes offered. To be considered for admission, applicants must satisfy the general entry requirements and specific entry requirements as set for each programme.
Applicants must note that fulfilling the general entry requirements and specific entry requirements does not guarantee entry into UNISSA's programmes as admission to all programmes is competitive and limited subject to availability of spaces.
GENERAL NOTES
Universiti Islam Sultan Sharif Ali reserves the right to reject applications which are incomplete, received after the closing date or containing false information.
Only shortlisted / successful candidates will be contacted.
Only qualifications from a University / Institution / Examination Board recognised by the University Senate will be considered.
For entry to first degree programmes only Sijil Tinggi Pelajaran Ugama Brunei (STPUB) and Brunei-Cambridge GCE 'A' Level qualifications or equivalent qualifications obtained in not more than 3 sittingswill be considered.
Applicants with other equivalent qualification such as Higher National Diploma (HND) may be considered subject to fulfilling the entry requirement set by the programme they have applied for.
General Paper and English as a Second Language will not be considered as Advanced Level subjects.
The London GCE 'O' Level Malay will not be considered.
Applicants who do not meet the normal entry requirements may be consideredfor admission to first degree programmes as mature applicants subject to the requirements set by the University as set out below.
Applicants must satisfy other requirements as set by faculties in Universiti Islam Sultan Sharif Ali from time to time.
Required to go through prescribed medical fitness examination and must be certified as fit to join the programme.
If deemed necessary, applicants may also be required to attend an interview conducted by the relevant faculty.
Points will be allocated to 'A' Level grades according to the following scheme, which is based on that used by the University Colleges Admission Services (UCAS), United Kingdom. Advanced Subsidiary (AS) Level qualifications are not awarded points in the UNISSA scheme and are not taken into account when determining acceptable qualifications for entry to UNISSA.
For English Medium programmes, applicants must have at least a credit 6in English Language at GCE 'O' Level Examination or a grade 'C' in IGCSE English (as a Second Language) or an IELTS score of 0 or a TOEFL minimum overall score of 550. 
Passed Primary School Religious Certificate (Sijil Sekolah-Sekolah Rendah Ugama Brunei) examination or its equivalent including Penilaian Sekolah Rendah Certificate examination for applicants from Institut Tahfiz al-Qur'an Sultan Haji Hassanal Bolkiah (ITQSHHB) and Arabic Schools, or equivalent qualifications recognised by University Senate.
Pass al-Qur'an al-Karim recitation test conducted by the University.
Four (4) years
[Full Time]

Bachelor of Shariah (Fiqh & Judiciary)

Bachelor of Shariah (Fiqh & Usul)

Bachelor of Arabic Language & Translation

Bachelor of Islamic History & Civilisation

Bachelor of Tahfiz & Qira'at

Bachelor of Science in Islamic Finance

Bachelor of Business Management

Bachelor of Laws & Bachelor of Shariah Law

Five (5) years [Full Time]

Bachelor of Halal Science

Five (4) years [Full Time]

Higher National Diploma in Shariah Criminal Justice System

Five (2) years [Full Time]
Tempoh Pengajian
Duration of Study

Yuran Pengajian setiap Program
Tuition Fees per programme

Program Peningkatan
Barnamij al- Tarqiyah / Upgrading Programme

Sijil Sistem Keadilan Jenayah Syaria
Certificate of Shariah Criminal Justice System

Diploma Tertinggi Kebangsaan
Higher National Diploma

Sarjana Muda
Bachelor's Degree

Sarjana Muda Undang-Undang dan Perundangan Syariah
Bachelor of Laws and Bachelor of Shariah Law