Articles
الأسماء العربيَّة في أرخبيل الملايو: أنماطٌ ونوادر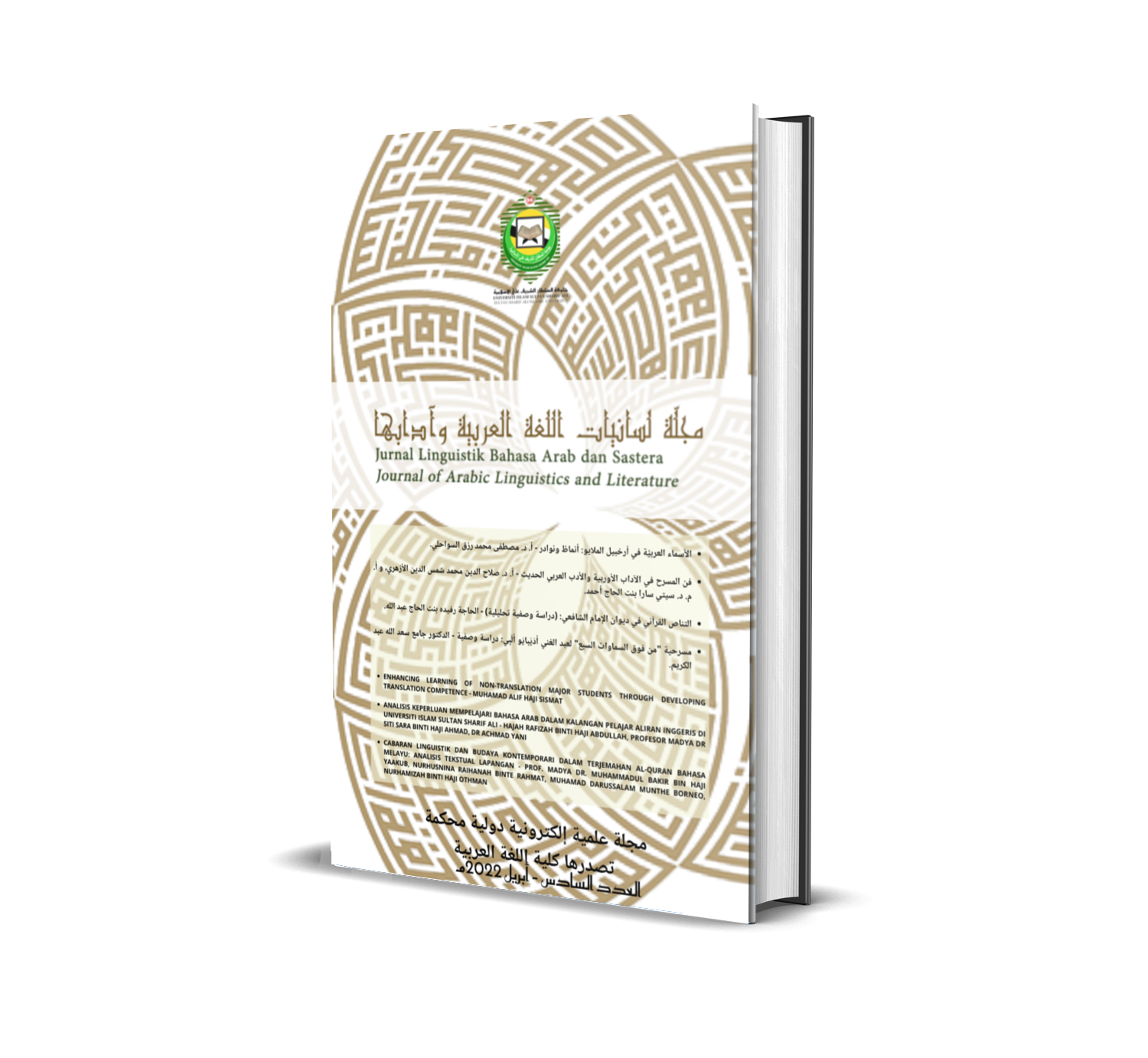 Published 2022-04-30
Keywords
أرخبيل الملايو

,

علم الأسمائيَّة

,

الأسماء العربيَّة

,

الطرائف والنوادر
How to Cite
الأستاذ الدكتور مصطفى محمد رزق السواحلي. (2022). الأسماء العربيَّة في أرخبيل الملايو: أنماطٌ ونوادر. JALL | Journal of Arabic Linguistics and Literature, 4(1), 1–17. https://doi.org/10.59202/jall.v4i1.481
Copyright (c) 2022 JALL | Journal of Arabic Linguistics and Literature
This work is licensed under a Creative Commons Attribution 4.0 International License.
Copyright Notice
Abstract
Historians have differed greatly about determining the date of Islam's entry into the Malay Archipelago, but they agree that it entered the region peacefully through the Muslim merchants, then the people converted to it voluntarily, leaving their Paganism, Chinese religion and Hinduism. Islam has been firmly established in the region, despite the successive occupiers who invaded the region repeatedly, and Arabic language found its way into the Malay language widely, whereas, it became an important element in its formation not less than Sanskrit and English. The residents accepted to learn it as the emblem of Islam, and favored it in naming the institutions and shops, not to mention keenness on it in naming their sons and daughters. This research is concerned with observing the patterns of naming children with Arabic names, with reference to a number of rare anecdotes about them. Which necessitated a reference to the philosophy of naming in the Arab heritage, that philosophy, which is considered a pillar, which is known today as the science of "
Onomastics
", and whose investigations have expanded linguistically and literarily, adding aspects of the wondrous richness in an issue that many people may think of as marginal or arbitrary, repeating the names of the saying: "Nouns are inexplicable Do not be explained", but it is a corrupt and clearly false statement. Then, the talk about the Arabism of the people of the region, who were not limited to the Arab whim of naming their children, but rather it turned into an official governmental orientation adopted by the countries, and into an economic orientation, which is tended by all kinds of the institutions. The research monitored seven patterns of Arabic names in the region, pointing to a number of rare anecdotes that occurred due to the local culture, and lack of knowledge of the Arabic language, sounds and semantics, linguistic overlap, phonetic distortion, semantic shift and the others… The research concluded with a recommendation for the countries and Arab cultural institutions to do their best to enhance the status of the Arabic language in the region, to take advantage of this precious opportunity represented by the overwhelming love for the language of the Qur'an by providing an appropriate cultural support and holding training courses to create a true Arabic linguistic awareness; to avoid these problems in naming, as some of them directly affect the Islamic faith.